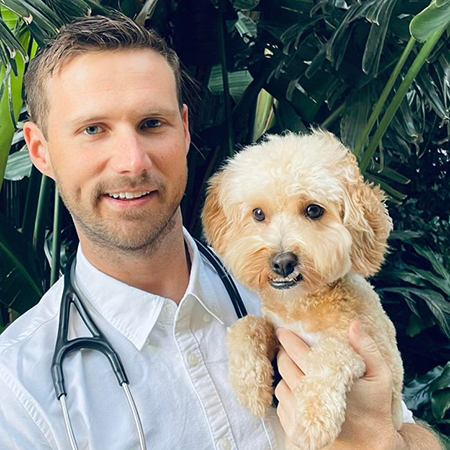 Dr Liam Donaldson
B.App.Sc (Hons), BVSc, MVS (Hons), MVSc (Hons), MANZCVS (ECC), DACVECC. Clinical Director and Specialist in Emergency and Critical Care
×
Dr Liam Donaldson
B.App.Sc (Hons), BVSc, MVS (Hons), MVSc (Hons), MANZCVS (ECC), DACVECC. Clinical Director and Specialist in Emergency and Critical Care
Dr Liam completed his undergraduate veterinary degree in veterinary science in 2013 at James Cook University before undertaking a small animal rotating internship at Queensland Veterinary Specialists in 2014. It was during his rotating internship that he developed a passion for Emergency and Critical Care. This led him to a residency in Emergency and Critical Care at the University of Melbourne throughout 2016 – 2018. While undertaking the residency, he also completed dual master's degrees in Veterinary Science (MVSc) and Veterinary Studies (MVS). It was also while at the University of Melbourne that he published a thesis looking at the immunomodulatory effects of lidocaine in dogs undergoing abdominal surgery.
Dr Liam sat and passed his specialist exams in emergency and critical care in Washington DC in September 2019 (DACVECC). Since passing his specialist exams, Dr Liam has returned to private practice. He has recently commenced training in haemodialysis through UC Davis, with the goals of furthering his theoretical understanding of dialysis. Dr Liam hopes this may lead to the establishment of a dialysis program in Melbourne, given the wide-ranging potential indications of haemodialysis and plasma aphersis in our critically ill patients.
In his spare time, Dr Liam enjoys going to the gym, or hitting up the bars of Melbourne with his beloved and overly spoilt Cavoodle, Charlie.